The most important aspect of any online business is SEO…right?
Its important before we even start a website in our given niche, to know what keywords we are going to target and optimize our pages and campaigns for. We need to know who our competition is, what is their strength or weakness, & how much traffic we might expect, once we knock them off in the google search engine rankings.
Seriously. There is a lot of information on the web to make sense of, while making your keyword choices, so finding a search engine research tool to simplify this task is a paramount.
Recently, I was fortunate enough to be offered 'pro' account access to SEMRush, and was asked by their team to review their product…. so if you are serious about SEO or PPC, this 3-part SEMRush Review and Practical Application Guide is for you.
So what is SEMRush?

According to their website, SEMRush provides 3 main services rolled into one intuitive web-based SEO Keyword Research Tool (which is developed by the same guys that brought us the SEOquake Firefox plugin ).
These services are:
Organic Keyword Research Information
Adwords Advertising Keyword Research Information
Domain Information for both Organic and Ad Traffic.
The SEMRush software analyzes the first 20 google search engine results (SERPs), on over 80 million Keywords across the web, including local google search data from the US, UK, Australia, Canada, Russia, Germany, France, Spain, Italy, Brasil and Bing US.
The service also gathers Organic and Adwords traffic information on over 42 Million Domains across the web, all stored on 11 different databases. So you can interrogate data on your competitors sites and even your own site 😉 , for keyword information and PPC advertising information.
Lets take a closer look at how to use the tool and the information it provides:
My experience using SEMRush?
Over the last two weeks I have been playing around with the SEMRush tool, and I must admit I am very impressed at how easy it was to use.
Once you login into your account, you can do either of 2 different types of searches, Keyword Phase or Domain/URL Name Search.
Either way, you can also select a Google Search Location (US, UK, Australia, etc) if you wish, and then hit enter. The results will then generate almost instantly for all local search locations.
Keyword Research Features
If you happen to do a Keyword Phrase search, in this example "Stock Market", it will then bring up Main Report, displaying the relevant data of 5 key reports for that keyword phrase:
Keyword summary – Summary including the Keyword, CPC Value, Advertising Competition, Average Search Volume, Number of Results and the Search Trend (over the last 12 months).

Phrase Match Report – A list of similar keywords and relevant data, that includes the phrase "Stock Market" (ie. "Stock Market Report").

Related Keyword Report – A list of related keywords and relevant data, that are related to the phrase "Stock Market" (ie. "Wall Street Quotes").

Organic Results – A list of the top 20 competing sites for the phrase "Stock Market" in that google search location, and the ranking page.
Ads – A list of the top Adwords advertisers for that keyword phrase, and a copy of the Adwords ad, and the landing page.

From the main report, you can click through to see any of the full reports, export the full report to excel, or click any of the keywords, values or domains to dig a little deeper.
Domain Research Features
If your thinking "So what Cade, that don't Impressa me Much" (thats Shania Twain if you didn't pick it), Domain Researching is where SEMRush becomes a Competition Research Tool with a difference.
With a Domain search, you type your Domain Name, in this example "australianstockreport.com.au", it will then bring up Main Report, which displays the relevant data of 7 key reports for that Domain Name including:
Organic Keywords – A list of Keywords (and relevant data), that the domain "australianstockreport.com.au" ranks for in the Google Top 20.
Advertising Keywords – A list of Keywords (and relevant data) that the domain "australianstockreport.com.au" buys Adwords Traffic for (if any).
Competitors in Organic Search – A List of Competitor sites that organically rank for common keywords to the domain "australianstockreport.com.au".
Competitors in Advertising – A List of Adwords Competitors sites, that buy traffic for common keywords to the domain "australianstockreport.com.au".
Unique Ads – A List of  Adwords Text Ads that the domain "australianstockreport.com.au" uses to buy traffic with, in their Adwords Campaigns (if any)
Potential ads/traffic buyers (Organic to Ads competition) – A List of Common Keyword Sites (for Organic Traffic),  that are proven Adwords traffic buyers for those keywords.

Potential ads/traffic sellers (Ads to Organic competition) – A List of Common Keyword Sites (for Adwords Traffic),  that are proven Organic traffic receivers for those keywords.
*New* Backlink Analysis – SEMRush seems to be keen to grow its suite of tools available to its users. They are now building backlink profile information on domains, including the source url, target url, and the anchor text, so that you can assess the backlink strength of the competition
*New* Top 200 Organic Keywords – A list of Keywords (and relevant data) that the searched domain ranks in the Google Top 200 that carry significant traffic potential (only for google US at present)
Check out the SEMRush Review video I create below to see how intuitive and easy to use the interface is, so you can quickly find top keywords to target, or do further analysis on.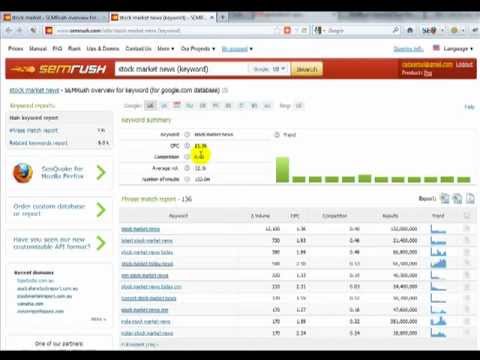 SEMRush Competition Analysis
The real beauty of the SEMRush internet marketing tool, is that is makes it extremely easy to pinpoint competitors that are ranking in the top 20 in google for any given keyword/s. Then as an added benefit, you can then quickly identify keywords, that are either profitable (for Organic or PPC Traffic), for each of your likely competitors.
The only CON that I could see with this Competition Analysis Tool, is that while is very good for quickly generating information on competitors for further analysis, it is slightly lacking in depth of assessment of the strength of  the actual Page that is ranking for the Keyword of interest. For that function I would recommend using the competition information generated in SEMRush, and run it through the competition analysis in Market Samurai (aff link), or manual assessment with SEOQuake and Ahrefs.com.
Practical Applications of SEMRush:
Here is a quick summary of some of the practical applications of SEMRush for building new websites, or optimizing existing websites:
Identify Niche Keywords – Quickly generate a list of Phrase Match or Related keywords to target, or for further analysis, via the Keyword Search.

Identify Keyword Competitors –  With SEMRush, you can identify competing domains that are currently ranking highly in Google for your keyword/s of interest, via the Organic Competitors Report.
Identify Organic Keywords of Competitors – One way to quickly generate a list of possible keywords to target, is to identify the keywords that your competitors are targeting and ranking for.
Identify Ranking Keywords for further Optimization – Sometimes its possible to be ranking organically for keywords other than you intended. By identifying these keywords, that are worthwhile, its possible with a little extra optimizing both on-page and off-page, to boost rankings and traffic.
Ad Traffic Buyer Suggestions – When researching a domain, SEMRush provides a list of keyword common domains that are proven Google Adwords Traffic Buyers. Which in turn gives you potential advertisers who may be interested in advertising on your website.
Identify Adwords Keywords Competitors – With SEMRush, you can identify competing domains that are targeting the same keywords with Adwords Traffic.
AdWords Ad Overview – Whether your interested in the Adwords Keywords your competitors are targeting, your competitors' ads, or their relevant landing pages, SEMRush has the power to show this information with a few clicks.
Side-By-Side Competitor Comparison – SEMRush makes it possible to analyze your domain vs. your competitors' domain name. You can compare common keywords, as well as the Google rankings, estimated monthly search volume, competing pages, and the estimated cost per click in Google AdWords for each of the common keywords.
Backlink Profile Analysis – A feature which is currently being introduced, which allows the user to assess a domains backlink profile strength.
Data Exports – SEM Rush offers 3 choices when it comes to exporting your research data, excel & 2 .csv variations. Being able to manipulate this powerful data in excel, is another major advantage for further analysis for the user.
For any SEO experts or Adwords campaign managers out there, I'm sure you can see the value in finding this information quickly, as a starting point. It can take you alot of research time (and maybe cash) trying to figure out your SEO or PPC plan-of-attack, if you don't have the right tools at your disposal.
SEO Tool Price Comparison
As part of this SEMRush review I thought it would be incomplete without a price comparison with some of the other Keyword Research Tools that are on the market.
It was worth noting that SEMRush is one of the Data providers for Raventools.com, which in itself speaks volumes about the information that SEMRush provides.
SEMrush can be seen as an extension of the SEODigger Tool (SEO + PPC data), and is in direct competition with services like SpyFu.com and Complete.com (though SpyFu only provides data for US and UK search engines).
All the other SEO Tools have additional functionality (such as Social Media tools, Traffic Tracking, etc), and a higher price tag to match.
While SEMRush starts at $69.95 p/m, with a 7-day Money Back Guarantee, I think this represents good value for money for an impressive tool. Especially if you already have an established online business model, that needs to be able to conduct Search Engine, PPC and Competition Analysis quickly and effectively.
Who would use SEMRush?
I was quite surprised when I arrived at the home page and noticed some of the major companies that use this software, such as Philips, Paypal, Expedia, General Electric, Forbes, Wells Fargo, Hyatt and Remax… as well as 200,000 Website Owners, SEO Experts, PPC account managers and Affiliate Marketers.
So I've arranged for my readers to get their hands on FREE PROMOTIONAL Access to this incredible competitive keyword research tool for 2 weeks. So you can gain invaluable competitive intelligence for your business.
Click below to take advantage of this awesome offer:
==> Yes Please, I'd like a Free Trial of SEMRush. (aff. link)