Google Adwords Keyword Tool
Keyword optimization is the trick to earning more money on-line as a Internet Marketer.  The same principle applies whether you have a website promoting your own business or if you have a blog selling affiliate products or if you simply have a blog with Google Ad's on it.  The keywords you target in your content determine what Google Ad's appear on your Web-site, so through good keyword selection and good placement of keywords in your content, the results can equal more revenue for your site.
The Google AdWords Keyword Tool is a great way to determine what keywords will work well for an article or blog,  the tool shows the number of searches done on Google in the past month and approximate average number of searches for each suggested keyword. The Google Adwords Keyword Tool is completely free and is very simple to use.
The Google Adwords Team are always adding advanced options to enhance your search's or be more specific to your website URL.  We have put together a short video on how to use the Google Adwords Keyword Tool and some of the other cool features it has: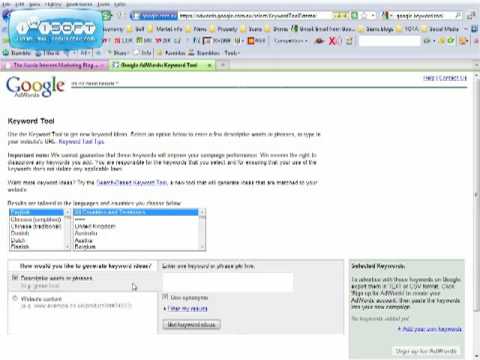 We hope you enjoyed our 1st video on Google Adwords Keyword Tool and look forward to sharing more tools and tips in our future posts.
Regards
Belinda & Cade