The importance of keywords
Effective search engine optimization consists of many different parts.
Of course having a well-designed and search engine-friendly website is important, as is having high quality links present on your site.
However, the 'keywords' you are going to target is of great significance, so placing a high emphasise on your search engine keyword research up front, can significantly improve your search engine traffic results and conversion.
Having the relevant keywords will give you a higher ranking on search engines, increase traffic on your site and therefore, a higher potentially to increase your business sales.
The four fundamentals
Among other things, your keywords need to be:
Highly Relevant to your Niche.
Good Levels of Traffic
Relatively Low Competition
Good Levels Commerciality (buying keywords)
Here is a video from Market Samurai which demonstrates these concepts: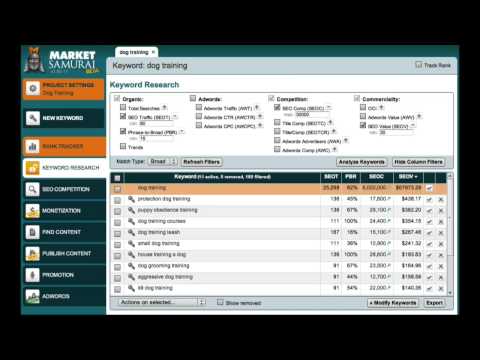 Keyword research tools
You might be wondering… how will I find the most appropriate and useful keywords for my online business. The answer to this is simple – Search engine keyword research.
The concepts of search engine keyword research are well worth your effort to understand, and proper application of these concepts can make a signifcant difference to the bottom line for you business.  To conduct effective keyword research, it is absolutely essential that you have a specialized keyword research tool that will help you to select the right keywords to target.
These tools supply us with keyword research reports with very valuable information such as the number of monthly searches, the degree of competition, the websites that are targeting the respective keywords and much more.
There are both free and paid tools that can help your get the job done. Personally I start with some of the free tools (below), and use the paid version of Market Samurai to really dig down to find the golden keywords, as I call them, and to track my ranking performance over time.
You can trial the Market Samurai software for free on the image below:
Google keyword research
There are also free keyword research tools available on the web, and using Googles keyword research tools has always been one of the popular choices for online marketers.
This is because it is your best option to quickly isolate relevant Long-Tail Keywords from your base Short-Tail Keywords using Google-only data. Google has different keyword research tools that are free such as:
Other keyword research tools
There are also very helpful tools that are on the internet to assist in your search engine optimization. Sometimes there are niches that can be a challenge to find keywords with good traffic, and not to much competition, so using other keyword research tools can help uncover these golden keywords. Other tools to consider are
Video Keyword Research Tools
Keyword Research Specialists
Sometimes businesses like to use a SEO Specialist to help them with their SEO needs, so they can focus on what they do best.
If your business would like some specialist help with search engine keyword research, contact us at Aussie Website Solutions for more info on our SEO Services. We can assist your business in targeting the appropriate keywords, rank #1, and driving more traffic to convert into customers.
Have a most outstanding day,
Cade Arnel
AussieInternetMarketer.com ©2011